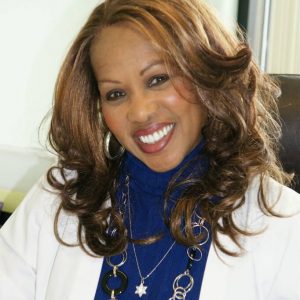 From an early age, Angel Mariah Thompson was greatly inspired by the eloquent parables of Jesus and the oratory skills of Dr. Martin Luther King. She was particularly fascinated by their ability to address the whole body as they spoke directly to the heart and soul of their audience. Growing up in the south, she soon discovered that this unique ability was a key to her purpose as well.
Having owned and operated a natural alternative healthcare facility in Santa Barbara, California over the past 20 years, she developed an intuitive understanding of the inter-dependency between body, mind and spirit. As both a natural doctor and holistic lifestyle coach, she worked with and detoxed clients from around the world.
Dr. Angel Mariah studied natural therapies, colon hydrotherapy and detoxification & cleansing programs at Clayton College of Natural Health and received a Doctor of Naturopathy degree in 1996.
Her passion is to inspire and educate others to take personal responsibility for their health because she believes that when people know better they do better. Her three-fold approach is to educate others about natural ways to cleanse, detoxify, strengthen and rebuild the holistic body, mind and spirit.
She encourages that we all matter and have a unique purpose for our lives and that when we individually discover and honor this purpose, we will eliminate the physical and spiritual dis-ease we see in our world today!
Passionate about her own personal health and wellness, her philosophy is …we come into this world gifted with two words…"I AM"…and then we fill in the blank…
Dr. Angel Mariah has two sons and lives in Lafayette, Louisiana
Colon hydrotherapy (referred to as Colonics, Colon Irrigation or Colon Therapy)
is a safe, gentle infusion of warm filtered purified water into the rectum from a closed system using no chemicals or drugs. It is a painless procedure which is both relaxing and effective. A small disposable instrument called speculum is used and gently inserted into the rectum. A colonic is useful for the following:
To remove accumulated waste from the colon
Reduce the load on the liver and lymphatic system
To help prevent constipation
To improve overall health
The accumulation of fecal matter in the colon can harden and it is this buildup of fecal matter that negatively affects the health.
Preventing water and nutrient absorption
Allows harmful colon bacteria and yeast to grow
Causes stagnant toxins to be absorbed into the bloodstream through the colon wall (called autointoxication)
Lack of fiber, excess sugar, and a diet high in red meat contributes to the problem. Today in the United States, colon cancer is the 2nd leading cancer killer of women with rental cancer having a higher occurrence in men. Colonics can seriously minimize the exposure of the colon wall to these potential carcinogens.
Today's colon hydrotherapy with modern instrumentation offers the safest and highest levels of results to the client. The benefits of colon hydrotherapy are numerous and beneficial for the following conditions:
Constipation
diarrhea
sluggish colon
hemmhroids
intestinal toxemia
bowel training
para or quadra-plegics,
prevention
preparation for diagnostic study,
sigoidmosohy and colonoscopy,
surgery pre and post op and
following pregnancy

The use of colon hydrotherapy in the medical field is becoming more prevalent everyday. Doctors and therapists alike are now realizing that periodic cleansing of the colon can prevent stagnation and minimize the exposure of the colon wall to potential cancer causing agents.
Good health is as much a function of our elimination as the quality of the foods we ingest. Considering that over 400 million dollars are spent annually on laxatives 140,000 Americans are diagnosed with colon rectal cancer and of this group, 44% will die as a result of this disease. Colon cancer is the 2nd leading killer in the U.S.
The choice is yours! Periodic cleansing of the colon can prevent stagnation and minimize the exposure of cancer causing agents to the colon wall. It is a natural, safe and effective healthcare modality now recognized all over the world!